About The Russian America
---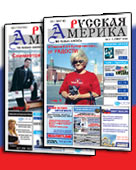 Newspaper The Russian America is the single Russian periodical publication issued in the Midwest USA. It has been established by New Ad Age International, INC. in 2002. The Russian America is published biweekly. The newspaper has 24 pages (some are color). Page size is 11 X 17 in. (standard tabloid size).
The publication is distributed free of charge in Alaska, Arkansas, Arizona, Illinois, Indiana, Kansas, Kentucky, Missouri, Massachusetts, Mississippi, Minnesota, Nevada, Oklahoma, South Dakota, North Dakota, Iowa, Tennessee, Louisiana, Utah, Florida and Texas. It is also possi­ble to subscribe to the newspaper at low rates.
There is a big Russian population in the states where The Russian America is circulated. According to the Census of the year 2000, 151,000 Russians live in Massachusetts, more than 100,000 – in Illinois, more than 100,000 – in Texas, 45,000 - in Missouri. Every tenth citizen of the State of Kansas is a descendant of Russian Germans, who emigrated from Russia in the XIX century.
The main aim of The Russian America is to provide the Russian population with truthful, substantial, and appealing information, as well as to introduce businesses to the Russian community.
Several factors that attract advertisers to The Russian America are:
· The Russian America is the only major Russian newspaper in the Midwest with extensive coverage
· The publication is distributed free of charge and is available to many people
· The interesting articles of our journalists and the format of The Russian America encourage the readers to return again and again to what they have already read
We can make the design of your ad in Russian or in English at no extra cost
By selecting The Russian America, you offer your products and services to a large number of Russian people. We are open to negotiations and search of mutual forms of cooperation.